page: 2212
PCD-7004
The PCD-7004 PCI card brings configurable bi-directional digital ports.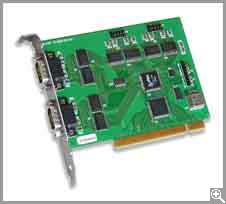 The card provides four 8-bit bi-directional digital ports, software-configurable as input or output. Two ports are accessible right on the card mounting bracket, the third and fourth port via the PCE-209 adaptor (not included).
All digital ports use an approved interface with the D-Sub 9 connector (a connector with 8 signals and GND), for which TEDIA offers many daughter cards with isolated inputs and power outputs (the OPT-800 series).
The PCD-7004 PCI card also includes IRQ logic with five interrupt sources - from one digital input out of every port and from the internal timer. The timer allows the user (together with the period setup, startup and stop) to read back its actual state.
Software Support
The support is available for Windows XP, Windows 2000 and Windows 98/Me. Windows NT4 is not guaranteed, Windows 95 is not supported.
The demo examples for MS-DOS are available on demand.
Specifications
| | |
| --- | --- |
| Number of Digital Inputs | 0/8/16/24/32 (four 8-bit bi-directional ports shared with outputs) |
| Compatibility of Digital Inputs | TTL/HC |
| Number of Digital Outputs | 32/24/16/8/0 (four 8-bit bi-directional ports shared with inputs) |
| Compatibility of Digital Outputs | TTL/HC |
| Interrupt Sources | 4x digital input, timer 1-255 ms |
| Bus Type | Standard PCI (32-bit, 33 MHz, 5V) |
| Board Dimensions | Approx. 100x130 mm |