Product and service portfolio
PC System Solutions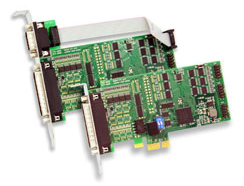 Multifunctional cards for laboratory and industrial applications
(A/D & D/A converters, etc.)
I/O cards for industrial applications
(digital I/O, quadrature encoders/counters, counters, etc.)
Special cards for laboratory applications
(signal generators, antialiasing filters, etc.)
Daughter boards for signal conditioning
(isolation amplifiers, multiplexers, power outputs, etc.)
PCI Express, PCI, ISA and PC/104 buses
DAQ modules for Mobile Measuring Systems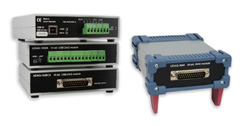 Multifunctional devices for laboratory measuring systems
USB connection
Ethernet 10/100/1000 Mbit/s connection
Currently developed modules can work also as stand-alone datalogger without connection to the computer.
Remote DAQ&C modules for Distributed Systems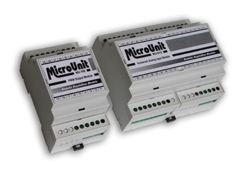 MicroUnit series modules
Wide range of intelligent I/O devices
(analog I/O, digital I/O, counters, etc.)
Native RS-485 communication (Modbus or AIBus-2 protocol),

USB/LAN/RS-232

interfaces via converters
Industrial design, DIN 35 rail mount
LCD modules for the distribution board front panel mount
Designed for reliable operation in harsh environment and wide temperature range up to

-40/85°C

.
Add-on PC cards and converters for Communication in Industrial Environment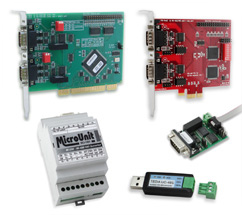 PCI Express, PCI, ISA and PC/104 communication cards
1, 2 and 4-port cards providing high performance UART controllers
Microcontroller controlled cards with embedded protocol support
RS-232, RS-422 and RS-485 communication converters and repeaters
Miniature USB/RS-232 and USB/RS-485 converters
RS-422/485 overvoltage and surge protection
Custom-made Development and Manufacturing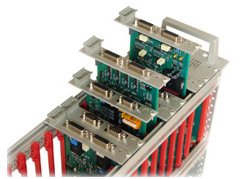 Special add-on PC cards (PCI Express, PCI, ISA and PC/104 buses)
(TEDIA® was a member of PCI Special Interest Group for many years)
Electronic equipment providing USB or Ethernet interface
Special electronic equipment built into 19" rack for industrial DAQ&C applications in harsh environment
TEDIA® gained its experience in developing with more than 100 types of add-on PC cards and more than 400 types microcontroller/FPGA boards
Software
TEDIA® provides the development of PCI/PCIe card Windows drivers.
Dedicated drivers also support Control Web developing tools (a Czech development environment provided by Moravian Instruments).
TEDIA® supplies ScopeWin - a system for laboratory and industrial measurement and data analysis.