About TEDIA® company
Several words about TEDIA® company
TEDIA® was founded in 1994 as a limited liability company owned by private persons.
Today, all activities are based on dozen of experts for hardware development, PCB design, microcontrollers firmware development, FPGA designing, PC software programming including Windows system drivers.
Moreover, TEDIA® is not just a "development house", but is equipped with...
production technology for PCB assembly (pick and place machine up to 0.3 mm pin pitch and Ultra Fineline BGA; vapor phase soldering technology oven)
optical inspection using Mantis Elite patented 'eyepieceless' stereo microscope
rework station for unsoldering and repair
workplaces for manual soldering of THT and SMT components
laboratory for temperature & humidity test chamber (allows to perform tests in the range of -40 to +180 °C and relative humidity in the range of 10 to 98 %)
measuring instrument for tests according to the EN 61010-1 and EN 60950-1 standards, regarding the safety requirements for electrical equipment (allows to perform tests for isolation breakdown voltage of up to 5000V, protective earth conductor impedance tests, discharge current measuring, etc.)
ISO 9001 Quality Management System (QMS)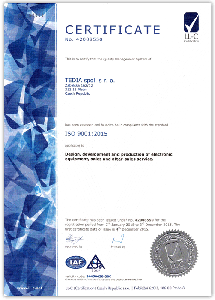 TEDIA has been always working to achieve high quality and reliable products and has been evolving its internal quality management system.
In December 2003 the system was certified according to the EN ISO 9001:2000 standard and later recertified according to the EN ISO 9001:2008 and EN ISO 9001:2015.
All identified processes, ie. the analysis, development, manufacturing, validation processes and the accompanying services, operate under a long-standing and constantly-updated quality management system.
All TEDIA QMS certificates are available below:
Business partners
The overview of most important customer clients follows...
ABB s. r. o. (division of ABB Asea Brown Boveri Ltd)
activation GmbH, Germany
Autoform GmbH & Co. KG, Grupo Antolin, Germany
AVX Czech Republic s.r.o.
BOSCH (Robert Bosch spol. s r.o., Czech)
BOSCH (Robert Bosch Mexico Sistemas Automotrices S.A. de C.V., Mexico)
Continental Automotive Czech Republic
ELCOM a. s.
Chemopetrol - Chemtez a. s.
Igloo Vision Ltd, Australia
INOVA Praha s.r.o.
Intech Automazione srl, Italy
Matsushita Television Central Europe
MICRO-EPSILON Czech Republic, spol. s r. o.
Ministry of Defence of the Czech Republic
Ministry of Interior of the Czech Republic
MER MEC S.p.A., Italy
Neocom A.D. Skopje, Macedonia
Panasonic AVC Networks Czech
Rohde&Schwarz CZ
SKODA AUTO a.s.
ON SEMICONDUCTOR CZECH REPUBLIC (TESLA Sezam a. s)
OZM Research, s.r.o.
Transgas a. s.
Slovtransgas a. s.
University of South Wales, UK
Vítkovice a. s.
Virtual Access Limited, Ireland
VISHAY ELECTRONIC spol. s r.o.
ZF Engineering Plzen s.r.o.
Several Czech acredited testing institutes (FTZU Ostrava, EZU Praha, ITC Zlin)
Most of Czech and Slovak technical universities
Several departments of the Academy of Sciences of the Czech Republic (ASCR)
Learn More
You may see a brief list of our activities and examples of our custom-made products.