Communication converters and repeaters
(1. generation)
Communication converters and repeaters are intended for converting the RS-232, RS-422 and RS-485 signal levels. They can be used in any application requiring asychronous serial communication.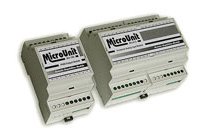 All types are suitable for industrial control systems, building in the switch boards, etc. The coverters need an external power supply (24V or 12V), both communication lines are isolated to the power supply and to each other (three-way isolation).
The converters provide the circuits for RS-485 Automatic Data Flow Control (ADFC) or the RTS and DTR signals can be used. They also provide overvoltage protection components and the line termination impedances.
Specifications (converters)
Type
MU-1422
MU-1482
MU-1485
MU-1424
Control line
RS-232
RS-422
RS-232
RS-232
Control line signals
TXD, RXD, RTS, DTR
(TXD, RXD with ADFC control)
- - -
Output line
RS-422
RS-485
RS-485
RS-485
RS-422
Output line signals
TXD, RXD
TXD, RXD
RTS, CTS
Data transfer control
RTS, DTR, ADFC
- - -
Transfer rate
600Bd÷115.2kBd
RS-422/RS-485
line protection
TVS diodes 5V8/600W
RS-485/RS-422
termination
- - -
120Ω/1.2V
120Ω/1.2V
- - -
Type of isolation
three-way
Isolation voltage
1kVDC
Supply voltage
15÷30VDC (24V version), 10÷20VDC (12V version)
Current consumption
200mA max. (24V version), 350mA max. (12V version)
Housing
Modulbox 3M
Modulbox 6M
Specifications (repeaters)
Type
MU-2232
MU-2234
MU-2422
MU-2423
MU-2485
First/Second Line
RS-232
RS-232
RS-422
RS-422
RS-485
Signals
TXD, RXD
RTS, CTS
TXD, RXD
RTS, CTS
TXD, RXD
TXD, RXD
TXD, RXD
Data transfer control
- - -
- - -
- - -
ADFC
ADFC
Transfer rate
600Bd÷115.2kBd
RS-422/RS-485
line protection
- - -
TVS diodes 5V8/600W
Type of isolation
three-way
Isolation voltage
1kVDC
LED indicators
1
5
3
3
3
Supply voltage
15÷30VDC (verze 24V), 10÷20VDC (verze 12V)
Current consumption
200mA max. (24V version), 350mA max. (12V version)
Housing
Modulbox
3M
Modulbox
6M
Modulbox 3M