Control Web SCADA system
Developer environment for creation and run of visualization, control or SCADA applications.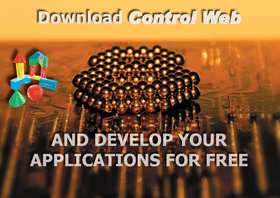 Control Web is a software system that can perform in many roles. It can work in machine controllers, can combine manufacturing technology with the enterprise information system, can be a data server with many web clients, can model and simulate processes, can create demanding visualizations and much more.
For some, Control Web can be a cost-effective tool that allows for the low-cost management of, for example, a small hydropower plant. For someone else, it is a means of creating a large enterprise distributed application with tens of thousands of measured points and containing hundreds of operator screens working on a number of networked computers. For students, it is a tool that saves them a lot of lab work by modeling, simulating and visualizing tasks, as well as automatically measuring and printing logs. The unified environment provides application authors with components and services including a graphical development environment to quickly address all the demands of today's modern automation systems.
You can develop and test applications in Control Web for free (since version 8). The application runs for 30 minutes, so you need to purchase a license only to run the application permanently.
Control Web highligts
Simple and intuitive development environment.
Possibility to connect any hardware (OPC, OPC UA, Modbus, Simatic ...).
Beautiful applications by supporting modern rendering technologies.
VisionLab - an extensive and powerful machine vision system is available.
Built-in web server (both HTTP and HTTPS support).
Open system (possibility to create own communication drivers, .NET support)
Drivers for serial line communication and for simulation and application test are included.
Many other drivers are available (OPC client and OPC UA client, Modbus serial and Modbus TC, HTTP client, Simatic, Saia, Allen-Bradley, Tecomat, etc).
Since version 8, it is possible to test applications in Control Web for free (application runs for 30 minutes without a purchased license).
Control Web & TEDIA DAQ devices
Most of TEDIA products are supported by Control Web system.
TEDIA has developed drivers for modules MicroUnit series (via MicroUnit dedicated RS-485 communication plug-in cards and converters), for most of plug-in DAQ cards (ISA and PCI) and for DAQ USB modules (with sampling rate up to 40 kHz).
All drivers are available for free.
How to get more information
The functional freeware version and all other information can be obtained directly from the manufacturer's website, Moravian Instruments (www.mii.cz).