ScopeWin32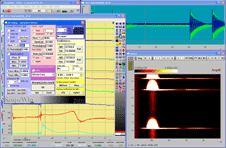 Software for measurement and data analysis
The ScopeWin32 software application has been designed to process and display measured data. Basically, it is a general purpose measuring and processing program which communicates with various measurement devices.
The ScopeWin32 works on Windows® 98/Me/2000/XP/Vista/7/8/10 operating systems (limitation may be the availability of drivers for individual OS versions).
TEDIA Recorder highligts
support of up to 128 measured analog signals (depending on hardware options) with physical unit scaling, alternatively digital signal and counter recording
maximum record length up to 10 million samples for each channel, total recording length of all channels limited by computer memory
data processing in the graphics windows with comfortable interactive cursor functions including multi block ZOOM, two-axes data reading out and peak finding
analysis including digital filtering, algebraic calculations, statistics, direct and indirect FFT, digital filtering, harmonic analysis, weighting function, data modifying functions (e.g. selective zeroing and cutting off the DC component), frequency analysis both in the time and frequency domains, etc.
more complex tasks can be solved by macros
data conversion from/to text and numerical formats
Note: The trial version does not allow to save data and print, but in all other properties it is the same as the full version. To activate the full version mode can be done by inserting the license number.
ScopeWin32 & TEDIA DAQ devices
ScopeWin32 uses the TEDIA_DAQ01 interface and supports all devices with analog inputs (i.e. plug-in DAQ cards and for DAQ USB modules).
Since of June 1, 2017, the fully functional version of ScopeWin32 is provided to registered users of trial version free of charge.