PCI communication cards - pricelist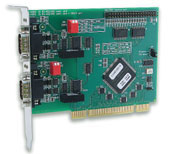 With over 20 years of plug-in card design and manufacturing experience (ISA, PC/104, PCI, PCI Express), TEDIA provides a wide range of industrial communication products.
How to order...
To make an order, inquiry or just ask a question, simply send an e-mail to sales department at e-mail address sales

tedia.eu.
Please always include Order Code in your correspondence.
All prices are quoted in CZK per piece, without VAT and shipping cost.
Last chance to buy spare parts !
End of production & extremely reduced prices - the warranty period only 1 month necessary for testing the functionality and no additional discounts are provided.
Universal communication PCI cards (COM ports)
Order Code
(Type)
Description
CZK
(1 pc)
PCI-1222U
2x RS-232, bez isolation, ESD 15kV
2,800


500

3 pcs of PCI-1222U

1,000

PCI-1224U
4x RS-232, bez isolation, ESD 15kV
3,300


750

3 pcs of PCI-1224U

1,600

PCI-1232U
2x RS-232, isolation 1kVDC, ESD 15kV
5,400


1,400

3 pcs of PCI-1232U

4,500

PCI-1234U
4x RS-232, isolation 1kVDC, ESD 15kV
7,900


1,800

3 pcs of PCI-1234U

4,500

PCI-1254U
3x RS-232 + 1x RS-422/485, isolation 1kVDC
(features as 3 ports

PCI-1232U

and 1 port

PCI-1482U

)
7,900


1,800

3 pcs of PCI-1254U

4,500

PCI-1414U
3x RS-422/485 + 1x RS-232, isolation 1kVDC
(features as 3 ports

PCI-1482U

and 1 port

PCI-1232U

)
7,400


1,400

3 pcs of PCI-1414U

3,500

PCI-1434U
2x RS-422/485 + 2x RS-232, isolation 1kVDC
(features as 2 ports

PCI-1482U

and 2 ports

PCI-1232U

)
7,400


1,400

3 pcs of PCI-1434U

3,500

PCI-1482U
2x RS-422/485, isolation 1kVDC
4,400


1,100

3 pcs of PCI-1482U

2,800

PCI-1484U
4x RS-422/485, isolation 1kVDC
6,900


1,400

3 pcs of PCI-1484U

3,500

PCI-1824U
4x RS-232, without isolation, ESD 15kV, konektory RJ45
3,300


550

3 pcs of PCI-1824U

1,100

PCI-1884U
4x RS-422/485, isolation 1kVDC, konektory RJ45
4,900


1,800

3 pcs of PCI-1884U

4,500
Universal communication PCIe/PCI cards - surge arrester
Order Code
(Type)
Description
CZK
(1 pc)
ESD-X2
adding two surge arresters on

PCI-1232U

or

PCI-1482U


(must be ordered together with the card)
300
ESD-X4
adding four surge arresters on

PCI-1234U

,

PCI-1254U

,

PCI-1414U

,

PCI-1434U

or

PCI-1484U


(must be ordered together with the card)
600