DAQ PCI cards - pricelist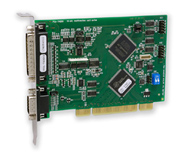 With over 25 years of plug-in DAQ card design and manufacturing experience (ISA, PC/104, PCI, PCI Express), TEDIA provides a wide range of industrial data acquisition and control products.
How to order...
To make an order, inquiry or just ask a question, simply send an e-mail to sales department at e-mail address sales

tedia.eu.
Please always include Order Code in your correspondence.
All prices are quoted in CZK per piece, without VAT and shipping cost.
Last chance to buy spare parts !
End of production - the warranty period only 6 months and no additional discounts are provided.
The number of pieces remaining in stock is given in the table below.
Multifunction cards (analog inputs & additional I/O ports)
Order Code
(Type)
Description
CZK
(1 pc)
PCA-7428CE


(1+ pcs)

8x S.E. AIN (14-bit ADC/100kHz), 2x AOUT (12-bit DAC), 2x CNT, 16+8 DIO,

isolated AIN/AOUT

10,900


10,300

PCA-7428CL


(3+ pcs)

8/32x S.E. AIN (14-bit ADC/100kHz), 2x CNT, 16+8 DIO
9,300


8,800

PCA-7428CS


(1+ pcs)

8/32x S.E. AIN (14-bit ADC/100kHz), 2x AOUT (12-bit DAC), 2x CNT, 16+8 DIO
10,400
I/O cards (analog outputs, counters, digital I/O)
Order Code
(Type)
Description
CZK
(1 pc)
PCD-7006C


(3+ pcs)

48x bidirectional DIO
4,400


2,800

PCD-7106C


(1+ pcs)

8x DIN (24VDC with isolation), 8x DOUT (relay), 32x bidirectional DIO
4,900
PCT-7303C


(1+ pcs)

3x IRC counter (24-bit, 16 MHz, RS-422/TTL interface), 8x real-time DOUT, 8+8 DIO
7,000
PCT-7303E


(3+ pcs)

3x IRC counter (24-bit, 16 MHz, RS-422/TTL interface with isolation), 8x real-time DOUT, 8+8 DIO
7,700


7,000

PCT-7424C


(5+ pcs)

24x DIN (TTL), 24x counter (32-bit, 2 MHz), 8+16 DIO
6,300


3,900

PCT-7424E


(1+ pcs)

24x DIN (24VDC with isolation), 24x counter (32-bit, 2 MHz), 8+16 DIO
6,700
DAQ PCI cards - surge arrester
Order Code
(Type)
Description
CZK
(1 pc)
ESD-X1
adding a surge arrester on

PCA-7428CE

or

PCT-7303E


(must be ordered together with the card)
200