Communication converters & repeaters - pricelist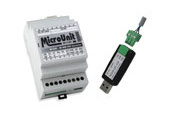 TEDIA offers a number of communication converters designed especially for data transfer between devices in laboratories or in industrial applications.
The converters can be divided into two basic groups; the first are converters from the USB interface to RS-232 or RS-485 communication lines (ie. converters creating a COM port in the host computer; replace plug-in communication cards), the second group is converters of two communication lines.
How to order...
To make an order, inquiry or just ask a question, simply send an e-mail to sales department at e-mail address sales

tedia.eu.
Please always include Order Code in your correspondence.
All prices are quoted in CZK per piece, without VAT and shipping cost, with following small quantities discount:
| | |
| --- | --- |
| 1÷2 pcs | price indicated in tables below |
| 3÷4 pcs | discount 4% |
| 5÷9 pcs | discount 7% |
| 10÷19 pcs | discount 10% |
| 20+ pcs | contact sales department for an individual price |
Miniature isolated USB converters
Order Code
(Type)
Description
CZK
(1 pc)
UC-232
USB <-> RS-232 (TXD + RXD), isolation 2.5kVRMS
1,950
UC-232/5
set of five converters UC-232
8,800
UC-485
USB <-> RS-485 (TXD/RXD), isolation 2.5kVRMS
1,950
UC-485/5
set of five converters UC-485
8,800
UC-SV3
spare plug-in terminal block (for UC-232 a UC-485)
30
Universal converters and repeaters for DIN35 rail mount
Order Code
(Type)
Description
CZK
(1 pc)
MU-1481
RS-232 <-> RS-422/485 (TXD, RXD), ADFC, three-way isolation 1kVDC, DIN35 housings
3,200
MU-2481
RS-422 <-> RS-422/485 (TXD, RXD), ADFC, three-way isolation 1kVDC, DIN35 housings
3,200
MU-2485
RS-485 <-> RS-485, ADFC, three-way isolation 1kVDC, DIN35 housings
3,200
MU-3485
RS-485 line surge protector module (discharge arrester, TVS diodes and termination impedance), DIN35 housings
1,200