Communication converters & repeaters - pricelist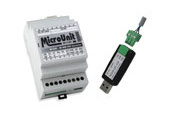 TEDIA offers a number of communication converters designed especially for data transfer between devices in laboratories or in industrial applications.
The converters can be divided into two basic groups; the first are converters from the USB interface to RS-232 or RS-485 communication lines (ie. converters creating a COM port in the host computer; replace plug-in communication cards), the second group is converters of two communication lines.
How to order...
To make an order, inquiry or just ask a question, simply send an e-mail to sales department at e-mail address sales

tedia.eu.
Please always include Order Code in your correspondence.
All prices are quoted in CZK per piece, without VAT and shipping cost, with following small quantities discount:
| | |
| --- | --- |
| 1÷2 pcs | price indicated in tables below |
| 3÷4 pcs | discount 4% |
| 5÷9 pcs | discount 7% |
| 10÷19 pcs | discount 10% |
| 20+ pcs | contact sales department for an individual price |
Reduced prices highlighted with
red

color

Reduced prices are valid for a limited period of time and can be returned to their original price any time without notice.
Orders with reduced prices are accepted for one week after return to the original price.
No additional discounts are provided.
Miniature isolated USB converters
Order Code
(Type)
Description
CZK
(1 pc)
UC-232
USB <-> RS-232 (TXD + RXD), isolation 2.5kVRMS
1,950
UC-232/5
set of five converters UC-232
8,800
UC-485
USB <-> RS-485 (TXD/RXD), isolation 2.5kVRMS
1,950
UC-485/5
set of five converters UC-485
8,800
UC-SV3
spare plug-in terminal block (for UC-232 a UC-485)
30
Universal converters and repeaters for DIN35 rail mount
Order Code
(Type)
Description
CZK
(1 pc)
MU-1481
RS-232 <-> RS-422/485 (TXD, RXD), ADFC, three-way isolation 1kVDC, DIN35 housings
3,200
MU-2481
RS-422 <-> RS-422/485 (TXD, RXD), ADFC, three-way isolation 1kVDC, DIN35 housings
3,200
MU-2485
RS-485 <-> RS-485, ADFC, three-way isolation 1kVDC, DIN35 housings
3,200
MU-3485
RS-485 line surge protector module (discharge arrester, TVS diodes and termination impedance), DIN35 housings
1,200