PCI Express communication cards - pricelist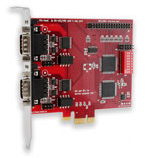 With over 25 years of plug-in card design and manufacturing experience (ISA, PC/104, PCI, PCI Express), TEDIA provides a wide range of industrial communication products.
How to order...
To make an order, inquiry or just ask a question, simply send an e-mail to sales department at e-mail address sales

tedia.eu.
Please always include Order Code in your correspondence.
All prices are quoted in CZK per piece, without VAT and shipping cost, with following small quantities discount:
| | |
| --- | --- |
| 1÷2 pcs | price indicated in tables below |
| 3÷4 pcs | discount 4% |
| 5÷9 pcs | discount 7% |
| 10÷19 pcs | discount 10% |
| 20+ pcs | contact sales department for an individual price |
Universal communication PCI Express cards (COM ports)
Order Code
(Type)
Description
CZK
(1 pc)
PCI-1232E
2x RS-232, isolation 1kVDC, ESD 15kV
5,700
PCI-1232E/7
set of seven cards PCI-1232E
34,200
PCI-1234E
4x RS-232, isolation 1kVDC, ESD 15kV
8,400
PCI-1234E/7
set of seven cards PCI-1234E
50,400
PCI-1414E
3x RS-422/485 + 1x RS-232, isolation 1kVDC
(features as 3 ports

PCI-1482E

and 1 port

PCI-1232E

)
8,900
PCI-1414E/7
set of seven cards PCI-1414E
53,400
PCI-1434E
2x RS-422/485 + 2x RS-232, isolation 1kVDC
(features as 2 ports

PCI-1482E

and 2 ports

PCI-1232E

)
8,900
PCI-1434E/7
set of seven cards PCI-1434E
53,400
PCI-1482E
2x RS-422/485, isolation 1kVDC, ESD 15kV
5,700
PCI-1482E/7
set of seven cards PCI-1482E
34,200
PCI-1484E
4x RS-422/485, isolation 1kVDC, ESD 15kV
8,900
PCI-1484E/7
set of seven cards PCI-1484E
53,400
Universal communication PCIe/PCI cards - surge arrester
Order Code
(Type)
Description
CZK
(1 pc)
ESD-X2
adding two surge arresters on

PCI-1232E

or

PCI-1482E


(must be ordered together with the card)
300
ESD-X4
adding four surge arresters on

PCI-1234E

,

PCI-1414E

,

PCI-1434E

or

PCI-1484E


(must be ordered together with the card)
600